Where are we located?
Splashifax has partnered once again with Hatfield Farm to bring you Atlantic Canada's premier summer attractions. Splashifax is located on Second Lake which is accessible through Fort Clayton at Hatfield Farm.
Address: 1840 Hammonds Plains Road, Hammonds Plains, Nova Scotia B4B 1P4
Driving Directions: Approximately 8 km from both Hwy 102 & Hwy 103 on Hwy 213 – Hammonds Plains Road
Once you arrive and after checking in, you will be taken by a trolley to Fort Clayton and access Splashifax from there.
There is ample parking off Hammonds Plains Road in the Hatfield Farm gravel parking lot.
What to Expect
1

Arrive at least 30 minutes prior to start time.

2

Park in the Hatfield Farm gravel parking lot. Please be aware that we don't have storage down below at Splashifax to please leave all valuables in your locked vehicles.

3

Check in with our friendly employees along the fence on the left. If it's busy, our employees will either come to you or call you over when they're ready.

4

Here, you'll get a bracelet which is colour coordinated for your timeslot.

5

Head on over to the trolley pick-up point (65m from Check-In)and wait for an employee to direct you. If the trolley isn't there, please feel free to partake in the petting farm up to the left.

6

Once the trolley has arrived and the employee has directed you to board, please do so. Expect to get cozy!

7

Once at Fort Clayton, please follow the directions of our employees and when directed, follow the Unicorn Trail to Splashifax! This trail is approximately 365m, a mix of dirt and gravel, and includes some hills to get your blood flowing before the park!

8

Once at Splashifax, take in the sights and get your lifejacket from one of our lifejacket experts. If you've purchased socks, you will be directed to the Sock Station to receive them.

9

We don't have place to store your things, but we have picnic tables for groups to share, please use them at your own risk.

10

Proceed to the employee with the megaphone. There will be quite the crowd, so make sure you listen up! You will be getting your Safety Orientation 5 minutes before your session start time.

11

Once the Safety Orientation is over, you will be directed to the dock. There, you will be checked for lifeguard fit and sent on your way! Please do not run on the dock.

12

Jump in the water (feet first) and have fun.

13

You will have up to 100 minutes to enjoy the attraction and can take breaks at rest areas at any point.

14

With 5 minutes left,  the lifeguards will blow the whistle 3 times and announce it is time to head back to the dock. Sometimes it takes this long for everyone to get back to land!

15

Please return your life jacket to the designated area.

16

Follow the Unicorn Trail back to Hatfield Farm Trolley and board.

17

Once you have arrived back to the main office, you are free to leave or continue to access all that Hatfield Farm has to offer!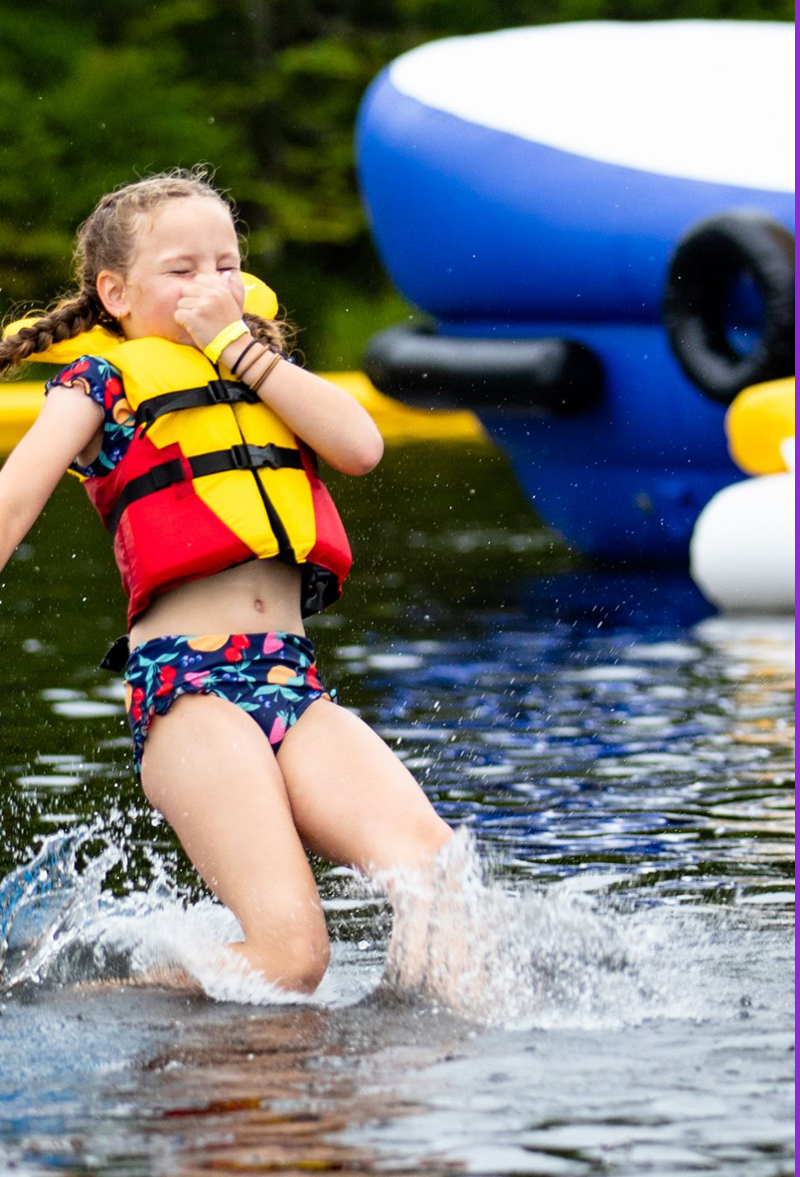 Splashifax Waterparks is a very physical, swimming-based experience. A safe guest experience starts with well-trained staff and responsive health and safety procedures. We are serious about your safety so you can focus on fun.
Please note that we do not recommend that those who are pregnant, have an injury, or a health condition use our park.
Please adhere to the following rules to ensure the safety of others as well as yourself. Guests found to be breaking these rules may be removed from the park without refund.
One at a time up ladders. The ladders can turn into a slide very quickly with just one slip of the foot or hand, so one at a time is mandatory to keep from turning other participants into bowling pins.

Look before you jump or slide. Make sure to look for other guests before you jump or slide.

No chasing and we do not recommend running. Surfaces are wet and slippery.

The use of drugs and/or alcohol is prohibited.

You must be a strong swimmer: The park is designed for strong and confident swimmers.
Everyone wears a lifejacket – at all times.

Absolutely no swimming under the inflatables. The inflatables are massive structures held together by large chains. Any attempt to swim underneath may result in serious injury or death. Attempts to swim under any inflatable will also result in immediate eviction from the park, without refund.

Clear out quickly from the bottom of slides and jumping zones. Once you've hit the water at the bottom of a slide or jumping zone, please proceed away from that area as quickly as possible. Refrain from swimming in these areas.

Do not jump down onto the inflatables. Except for designated jumping pillows.

Those aged 12 and under need a guardian on the park with them. Yes, this means getting in the water and joining in on the fun!